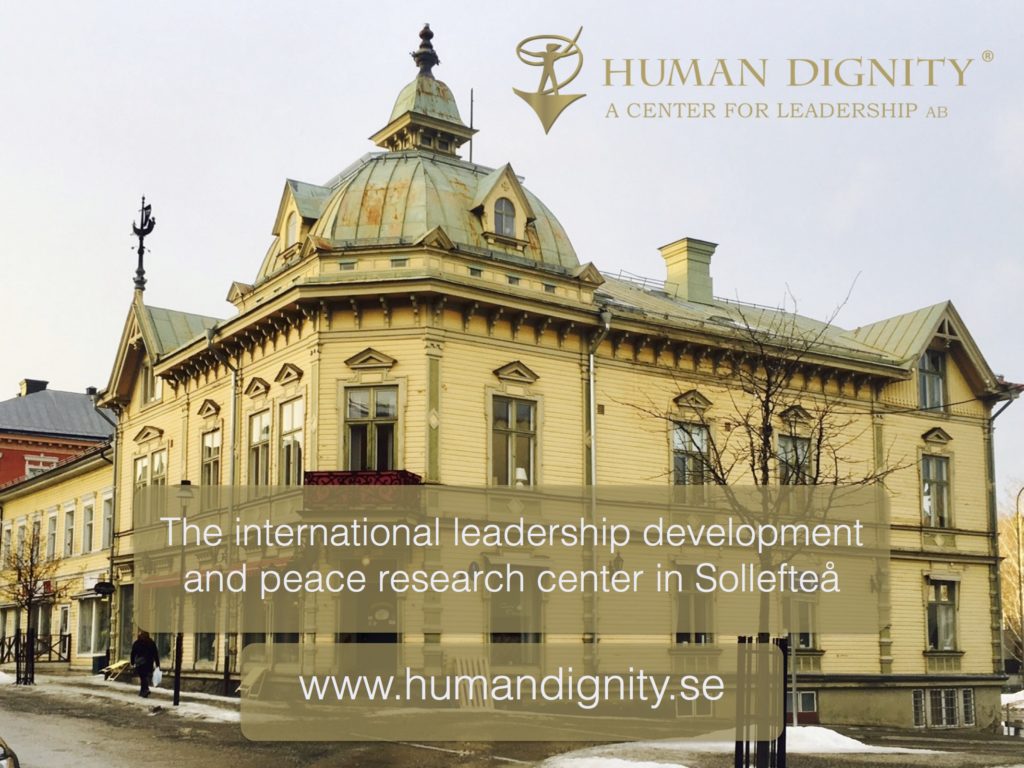 Human Dignity: A Center For Leadership AB is, since 2016, an international center for leadership development and research on the relationship between leadership development, peace and growth.
At the center we work on the basis of the conviction that the one who de facto leads a country, an organisation, a company or a family, whether an informal or a formal leader, is the one who creates the conditions for conflict or peace. This does not imply that the leader is bad. It implies that the situation is a direct result of the leader's relationships to herself/himself and her/his goal. All development is created from some form of conflict, which should not be condemned but rather seen as a potential for development. It is a challenge and a pleasure for leaders to understand that the solution for development lies in the leader himself/herself. All conflicts can be solved, given that there is a will, and the way thee is through increased awareness of and responsibility for the emotional and the relational. Peace is created through goals that are so comprehensive that they make everybody smile.
The center is based in Sollefteå, Sweden, in a beautiful apartment of one of the town's 19th century wooden houses on Storgatan 43. This is where most of Human Dignity's work takes place, but we also travel to give trainings and projects.
---
Few international educational programs today raise the role of leadership in peacemaking. At the same time, leadership seems to be important for the successful progression of various peace processes––something that was recurrently pointed out by several international peace mediators interviewed by Mathilda during her PhD research. Furthermore, several of the advanced systems that we have developed around the world in order to coordinate international, national and local cooperation, build on an significant awareness of verbal and written communication. However, awareness of the non-verbal communication, meaning the relational and emotional, which make up the basis of all human relations, remains relatively marginalised. Taking off in these insights, Human Dignity works with leadership development and peace research in order to further advance and develop our peacemaking work around the world.
Education leader Annika Sundbom Åström develops and leads participants in tailor made courses and individual coaching sessions by, both privately and professionally, practicing what she preaches. This implies that she constantly takes responsibility for her own development in relation to the relevant group and results by using peace as a means to achieve results. Her unique method implies always taking full responsibility for her projections in relation to those that she leads and their goals. It also implies leveraging great self-awareness, herself creating and expanding on peace to educate the participants to do the same.
Every educational programme, lecture, workshop or individual session is tailored in relation tot the overarching goals of both the center and the participants. We work with all kinds of formal and informal leaders interested in expanding peace, growth and sustainable development in the situations they work and live in, whether within international organisations, governmental or national leaderships, civil society, the private sector or families.
Peace researcher Mathilda Lindgren studies how the leadership development contributes to peace in order to document and share the insights with the participants, their organisations and the world. The research constitutes the first of its kind as current peace research has only marginally enlighten us on the connection between leadership development and peacemaking in international relations. The systematic research mainly builds on in-depth interviews, video-taped documentation and participant observations before, during and after leadership development programmes, lectures and workshops, but also other research methods are used based on goals and needs.
The collaboration between Annika and Mathilda implies that all course participants in group sessions and customers in individual leadership development sessions can both own the knowledge, skills and experiences that Annika teaches by internalising these during the training, and at the same time access valuable reference material through Mathilda's research for their own and others' continued leadership development.